PTZ Cameras
Pan, Tilt & Zoom Cameras
PTZ Calving Camera
PTZ (Pan, Tilt & Zoom) are very useful when you want to view large shed areas with a single Camera. You can control the viewing angle of the Camera. If set up to have a two way communication between the Camera and PC the viewing angle can be changed remotly from the PC.
Here is a small animation of me panning the Camera around the Cattle Shed. In reality the picture quality is better and is less jumpy. The resolution was reduced to save on bandwidth, but you should get the idea.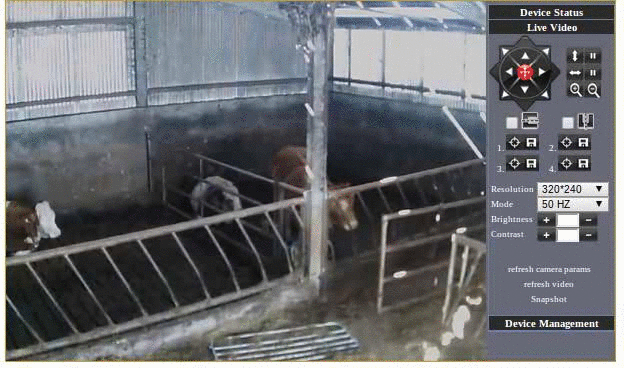 The most common, and popular, type of Camera with PTZ functionality is an IP Camera. All IP Cameras have two way communication between the Camera and the Host. What I mean by two way communication is that the IP Camera sends data (video stream) to the Host PC and the PC can also send data to the IP Camera (configuration settings or viweing angle changes).
Advantages
Can view large areas with a single Camera
Less Cameras required
Can change the Camera viewing angle easily
Zoom in on a targe to get a better picture
Disadvantages
Need to have a two way communication between Camera and Computer
More expensive than static Camera