HD PTZ Calving Camera
HD speed PTZ dome calving camera review
HD IP PTZ Camera
Recently I purchased a HD mini speed PTZ IP camera. I got this camera from Amazon where it was reasonably priced. This is a very good camera for using as a calving camera as it is 2.0 megapixels which produces very clear and crisp video images. It also has Pan/Tilt & Zoom (PTZ) functional which is exactly what you need for monitoring your animals.
Here is an Amazon link to this camera:

X10 Optical Zoom
What also attracted me the most to this camera was the x10 optical zoom. With other cameras, which I've used before, I was very disappointed with their zoom as it didn't make much of a different when fully zoomed. When using a camera for monitoring cattle, and particularly sheep, it is very beneficial to be able to zoom in as much as possible so you get good detailed view about what's going on. Also, if your shed is very large a camera with a good zoom is essential to cover the large area. I was very impressed with the zoom on this camera. The x10 optical zoom lets you zoom in on specific areas without a loss on picture quality. Here are some images taken from the camera that shows the how well the zoom performs.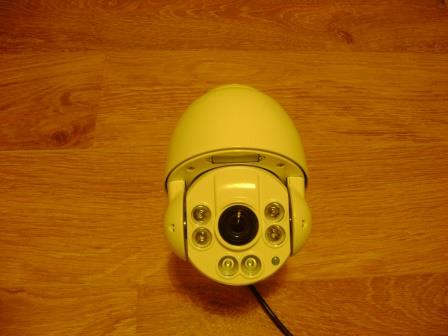 Digital Zoom
Along with the optical there is also a digital zoom. The digital zoom is just blowing up the image at a specific area. This zoom will pixelate the image the more you zoom in. But it still is a nice feature and can be useful a targeting in on far away subject.
Nightvision
The other impressive feature of this camera is the Nightvision. The camera has six Infrared (IR) sensors on the front of the camera which capable of viewing a distance of 50 meters away. This is ideal for large sheds. Here are some images of what the Nightvision looks like:
PTZ functionality
The PTZ functionality of this camera is very impressive. The camera can Pan 360 degrees all the way around and tilt a full 90 degrees so it covers a large area and there are no blind spots. Controlling the PTZ is very smooth and it's extremely easy to point the camera in the direction you desire. The camera also has 220 preset positions. This is very useful for setting areas or pens in the shed where you want to look at regularly. Instead of Panning, tilting and zooming the camera yourself you can just press a button and the camera will automatically go to that exact spot in seconds.
Other Features
The camera also has some nice features such as:
Excellent picture quality
DDNS - used for remote viewing over the internet
Support ONVIF 2.0, Support P2P, Mobile App
220 Pre-set Points
Strong hardened waterproof outer shell
It can be viewed using Internet Explorer browser
Ethernet Connection (RJ45)
Negatives
The one small problem with these cameras is that you need ActiveX installed on your browser when viewing the video. This is fine for Internet Explorer but other browsers do not support this without extra plugins. For connecting through a phone this is not a problem as there are plenty of app that work and don't have this problem.